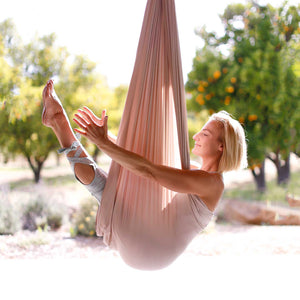 AIReal 50 In-Person Aerial Yoga Training + Certification with Founder Carmen Curtis February 2024 : East Coast Training
Sale price Price $1,500.00 Regular price $1,600.00
Our AIReal 50 hour teacher training is an exhilarating blend of the mental and physical, that leaves you feeling elevated inside and out. Spend your time hanging upside down and you'll start to realize that most things are a matter of perspective. Where other methods are a flex for your whole body, this practice yields countless benefits for your whole being. 

Learn In-Person with Founder Carmen Curtis, and gain access to her 20+ years of knowledge. 
This is the PERFECT training for anyone who wants to deepen their practice and/or learn how to teach AIReal Yoga! 
Finally the East Coast Training you all have been requesting! 

Address of Yoga Inspired Studio :
7713 Lead Mine Rd
Suite 3
Raleigh, NC 27615
February 2024 : Full Schedule Coming Soon! 
Your purchase includes:
148 Focused Training educational videos, featuring nearly 25 hours of content and 25 hours of practice
40 Hours of In-Person Training with Founder Carmen Curtis to dive in deep and get hands on practice
Downloadable detailed manual featuring over 100 postures, including in-depth descriptions, visual walkthroughs, and explanation of poses
Ready to use lesson plans and sequences in a range of styles
Progressions and modifications for working with all levels of experience and expertise
Teacher insights gained from over 25 years of hands on work with students
Training in proper safety methods and hammock rigging
Access to our Teachers Only private Facebook group and Private Online Community— a supportive international community of like-minded instructors, practitioners, and studio owners
Special access and pricing for live events and further continued education opportunities
Continued Education from the Yoga Alliance
1 Year Free of The Membership : Includes classes, continued ongoing support and discussions, workshops and printable lesson plans to use for your classes. 
If you have already taken the AIReal 50 Digital Training and want the In-Person experience the training please reach out for a discount code!   
Early Bird Pricing Until January 15th! 
REFUND AND CANCELLATION POLICY:
All requests to withdraw from the course must be received in writing. Those withdrawing 2 weeks prior to the start are eligible for a refund, minus a non-refundable $500 deposit. After 2 weeks prior there are no refunds, but you may transfer your paid spot to another person, sending a friend or family member to the training in your place, for a $250 administration fee + non-refundable deposit. (to be paid by the original attendee). There will be no refunds after a week before course instruction begins.
If the Training needs to be cancelled  or rescheduled we will work with you to switch to another date that you can make it or refund you in full. 
Travel, accommodations, & meals are organized by each participant. We highly recommend travel insurance to protect yourself against unforeseen circumstances and cancellations!