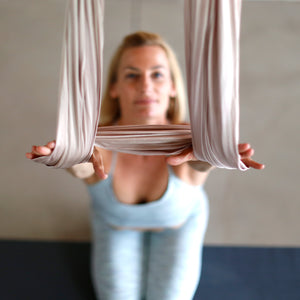 THE HAMMOCK +
Sale price Price $200.00 Regular price
The Hammock
Made from premium 30 Denier polyester blend with a tricot weave, this is the best aerial yoga hammock available (we should know, after 25 years we've tried them all). If we don't use it, we won't sell it.
For ceilings below 9'6",  your package includes:
1 Aerial Hammock (5.5 yards)
1 Carabiners

1 Swivel

2 Slings

1 Quick-Link

 
For ceilings above 9'6",  your package includes:
1 AIReal Hammock (8 yards)

1 Daisy Chain




2 Carabiners 

1 O-ring 

1 Swivel 

1 Quick-Link

 



Without gear:
Additional silks are a fantastic way to stay safe while personalizing both your home and studio practices. All hammocks are machine washable, clip on and off easily and securely, and come in a variety of unique colors. 
Buying more than 1? Reach out to info@airealyoga.com for a discount code. 
*Please consult with a rigging professional or your contractor to safely hang the hammock
We have many colors to choose from. Please refer to the color swab to understand the exact color, noting that your screen may change the color slightly. Then click on the link to get to the exact product where your color choice is listed. 
Colors:
Aqua, Baby Blue, Baby Pink, Black(Neutral), Brown(N), Burgundy, Champagne(Neutral), Gold, Gray(N), Green, Hot Pink, Ivory(Neutral), Lavender, Lime, Magenta, Navy, Neon Green, Neon Orange, Neon Pink, Neon Yellow, Blush Nude (Neutral), Orange, Purple, Red, Royal Blue, Silver(Neatral), Teal, White(Neutral), Yellow, Mint, Plum, Rust 
Please note we have 4 Options for each color: Hammocks Above which includes gear and is best for Ceilings 9 feet 6 inches or higher,  8 Yard Hammocks without gear, Hammock Below which is typically best for ceiling under 9 feet 6 inches, includes gear, and 5 Yard Hammocks without gear.